Welcome/Fáilte
Welcome to the website for St Oliver Plunkett PS and Nursery Unit.
Thank you for taking the time to visit our website and we I hope that you are able to learn more about the life of our school community through your visit. Our school motto is 'Caring, Sharing & Learning Together,' and we aim to live this out every day. The children, staff, parents and governors form a vibrant school community which offers all the children a happy and caring learning environment. Our website aims to give you the latest news, upcoming events and show you the experiences which our pupils enjoy.
Whilst this website can give you a glimpse of many aspects of our school life, if you wish to find out more or even see around our school and nursery unit, please make contact - you will be assured of a warm welcome.
Kind regards
Barry Conroy
Principal
A Day in the Life of our School & Nursery Unit
Catholic Schools - Delivering for Communities
You are invited to read this paper (link below) which articulates the future vision of Catholic Education, its ethos, and values.
The Catholic school sector is an exemplar of service delivery which continues to address the key educational challenges of our time and improve outcomes for children and young people. As a Catholic School, we believe that we have much to contribute to the creation of a high-achieving, inclusive education system in Northern Ireland that cherishes diversity.
40th Anniversary 1979 to 2019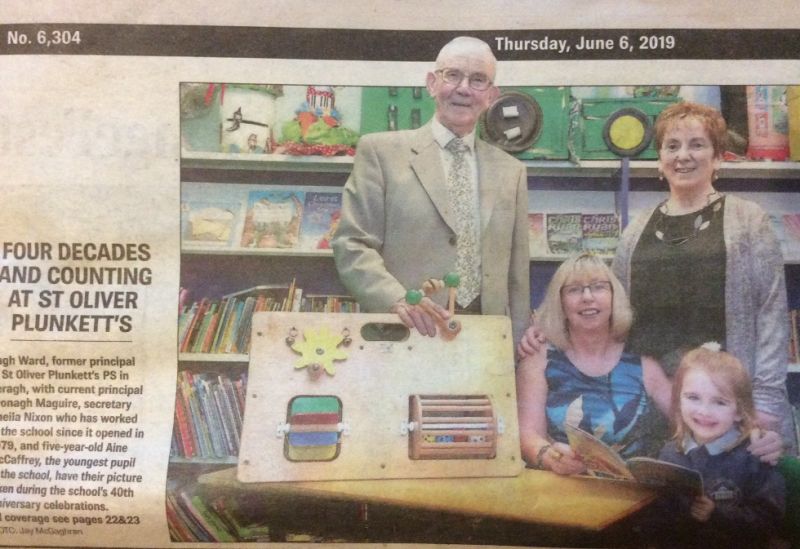 St Oliver Plunkett Primary School celebrated its 40th Anniversary on June 4th 2019. Current Parents, pupils staff and past parents, pupils and staff attended a Mass in Beragh, chapel followed by refreshments and concert in the school. There was a chance for past pupils and staff to take a walk down memory lane with photo displays, old scrapbooks, and a role call of pupils from 1979 to the present. It was a fantastic evening of nostalgia and celebrations.
On the 5th June all the pupils celebrated with bouncy castle, fun dinner, cake and 70s and 80s disco. Everyone dressed up in styles from the 70s and 80s and had a fun filled day!!
St Oliver Plunkett School Primary School and Nursery Unit, 9 Laragh Road, Beragh, Omagh BT79 0TH