Welcome/Fáilte
Welcome to St Oliver Plunkett Primary and Nursery school. Fáilte go dtí Scoil Oilibhéar Pluincéid.
Thank you for taking the time to visit our site and we hope that you are able to learn more about the life of our school community through your visit. The children, staff, parents and governors form a vibrant school community which offers all the children a happy and caring learning environment. Our website aims to give you all of the latest news, upcoming events and show you the experiences which our pupils are exposed to.
40th Anniversary 1979 to 2019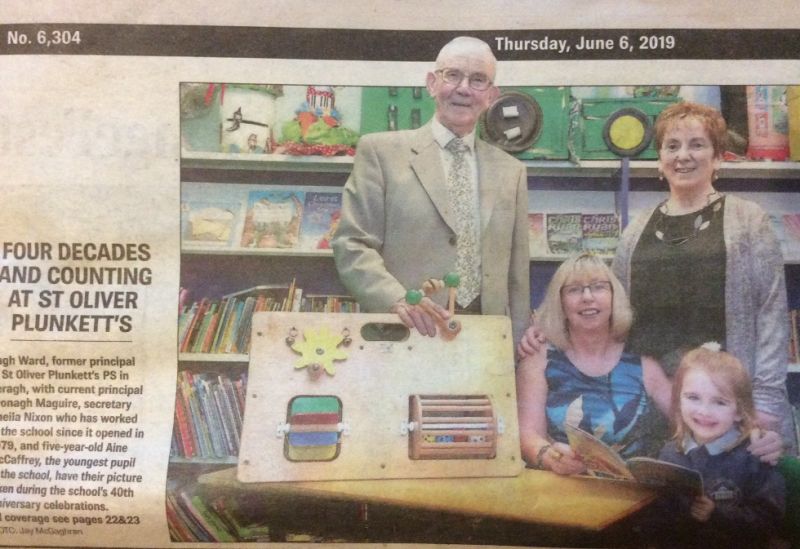 St Oliver Plunkett Primary School celebrated its 40th Anniversary on June 4th. Current Parents, pupils staff and past parents, pupils and staff attended a Masson Beragh chapel followed by refreshments and concert in the school. There was a chance for past pupils and staff to take a walk down memory lane with photo displays, old scrapbooks, and a role call of pupils from 1979 to the present. It was a fantastic evening of nostalgia and celebrations.
On the 5th June all the pupils celebrated with bouncy castle, fun dinner, cake and 70s and 80s disco. Everyone dressed up in styles from the 70sand 80s and had a fun filled day!!
St Oliver Plunkett School Primary School and Nursery, 9 Laragh Road, Beragh, Omagh BT79 0TH